Plan the Analysis & Assessment Phase with Master Developers
To build usable and understandable software, analysis and assessment are crucial. Our professional developers communicate regularly with the clients to look into their needs and gain an in-depth understanding of the software objective. It will help you develop an appropriate approach that can perform Requirements management of documents/data, validate the resulting solution, and make adjustments via detailed analysis.
Analysis
Software Analysis assures that the requirement specifications are successfully implemented into the software. And by Requirement Specifications, we mean all the functional and non-functional expectations. It is an intermediate stage where the specifications are translated into human-readable and understandable form via DFD, structure charts, HIPO diagram, structured pseudocode, decision tables, entity-relationship model, and data dictionary.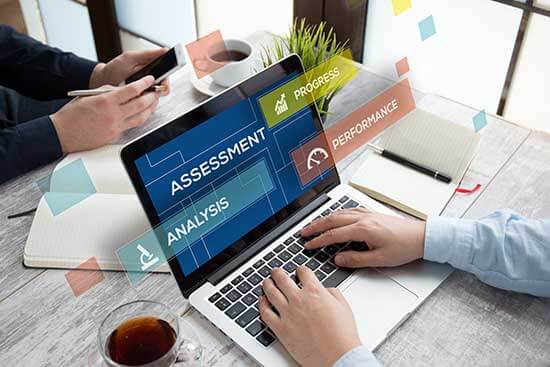 Assessment
By assessment, we mean Software Process Assessment that is a disciplined examination phase based on the process model. Through this, current practices are identified and characterized along with the strengths and weaknesses of the practices to control and supervise the procedure without losing quality, cost, or time. Assessment is a three-phase process done by, owner, internal assessment team, and external assessment party, all of which we can provide.
Analysis & Assessment- Combination of Knowledge
Big Rattle Technologies knows the value of Analysis and Assessment for software development in an open and collaborative environment. An organization invests in the software process to improve the functions, whereas most fail to achieve this.
Analysis and testing teams often put the project at a halt by failing to interpret the software demands accurately. To put out the fire, you need a team that focuses on the software instead of minor faults. Big Rattle untangles all the problematic knots and provides a complete solution.
Big Rattle Technologies Creates Your Path To Excellence
From defining your goals to crafting solutions for the software, our services cover all aspects of software development for your business.
Analytical Thinking: We have solidified our knowledge with years of experience in the development industry. Hence, our thought process had evolved to handle even the unsolvable tasks
Detailed Elicitation: With our personal qualities and strong work ethics, we can spare you the manual elicitation and facilitate you with all information gathered through personal means
Self-Organization: Instead of leaving the post-testing analysis to other teams, we dig in and assess the phases to ensure that all requirements are fulfilled
Data Mining: Familiar with data query and modeling, we can provide our clients with insights and help them with the decision making process by mining essential data
Approaches & Techniques for Analysis & Assessment
Our broad range of analysis and assessment services follows different tactics and techniques to guarantee the success of our clients.
For Elicit Requirements
Document Analysis
Interviews & Observation
Focus Groups
Requirement Workshops
Prototyping & Surveys
Interface Analysis
For Enterprise Analysis
Brainstorming
Rules Analysis
Root Cause Analysis
SWOT Analysis
Functional Decomposition
Estimation
Requirement Analysis
Organization Modeling
Process Modeling
Scope Modeling
Decision Modeling
Risk Analysis
Structured Walkthrough
Project Assessment
User Cases and Scenario
Mockups Preparation
Data Dictionary
Problem Tracking
Metrics & KPI
Non-functional Requirements
Data Flow Diagrams
Data Modeling
State Diagram
Sequence Diagram
Various aspects of analysis and evaluation are simple enough for us to handle. Big Rattle follows a well-devised strategy that creates the standard for software analysis and assessment. Entrust a company that holds years of experience and potential to streamline the software development job.
We are a company that delivers quality results to the clients to help them earn the profits they deserve. If you are in dire need of a software development, testing, and analysis team, then Big Rattle Technologies knows how to deal. We enhance your competitive strength by providing value-added services.
Big Rattle Technologies encourages the organization and gets behind the project to allow the company to create custom software that is tailored to their needs. Hire software developers who do the job with precision and deliver software projects without any delay. Avail any or all of our services at affordable prices today.