Social Interaction & Networking Services
Social Interaction is a construct that is defined as the extent of individuals to participate in a wide variety of social relationships. It involves engaging in social activities and relationships. Social Networking is the concept of establishing a relationship with online communities and websites to provide a personalized service to take the business to the next level.
Combine these two services, and an organization gets a complete system that helps them encompass social networking website design to connect, build, engage and foster loyalty amongst the customer base.
By social interaction and networking, we mean the overall expansion of your business to application and website that will amplify the existing communication and consumer involvement. Get experts of Big Rattle to work for you to integrate all these channels into one portal and deliver a solution that keeps you active and reaches out to customers.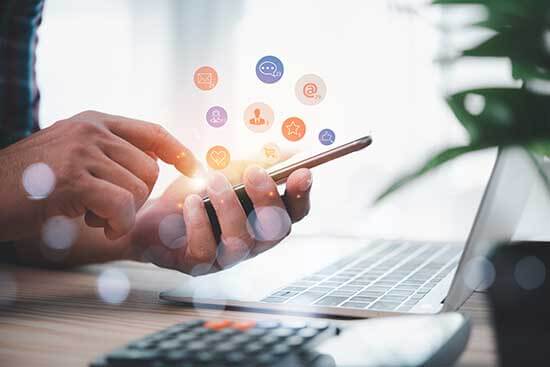 Our Integration Services
Looking over the background of software development, today's world is driven by social media. Our services integrate social media as a powerful strategy that brings you leads without haltering.
Social Media API Integration: Get the features of social media applications and transform them into a portal that increases productivity. We implement features such as commenting, sharing, content management, rating, polling, feedback, blogging, etc. to craft the collaborative environment that updates information from the customers automatically without detailed dissemination.
Social CRM Integration: Online conversations get converted into actions. To ensure that your brand name becomes the buzzing topic in the industry, we will build a CRM that integrates well with the social features of your choice. We populate the conventional client data with social details that reinforce our efforts in building a stronger business-customer relationship.
Personalized Social Commerce: We provide a trusted and personalized experience while shopping by incorporating social networking features. Social media spreads the word about your products, services, contests, discounts, promotions, special offers, and encourages customers to take action. From buyer reviews to deals tracking, merchant ratings to peer recommendations, everything will be in their pocket.
Loyalty Programs: Social Interaction allows an organization to keep up with the ever-changing business reality. We craft loyalty and incentive programs that shift the primary focus of the clients from transactions and discounts. Engagement builds trust, and this will be the extent of your customers as they feel directly connected to your brand across multiple channels.
Payment Gateway Integration: A business endeavors towards making money through social networking channels. It further demands the integration of multiple payment gateways to assimilate the transactions as well. Different currencies and different banking systems mean that you need software development service with extensive knowledge and experience too.
Why Choose Big Rattle Technologies for Social Integration?
From small to large scale enterprises, all businesses have one goal- to acquire a loyal customer base. We give you space and an environment where you can thrive.
Ownership & Channel Control: A high-quality custom social network delivered to you with complete ownership and proper control
Brand Engagement Maximization: Unleash the niche potential beyond the blogs and forums and exploring social integration features
Social Media Community: Focus entirely on building an online community over multiple channels instantly
Hassle-Free Scalability: Scale and grow as your social media circle expand and see the networking horizon unfold
Unmatched Flexibility: Choose the way customers connect, interact, and share on the social networking platforms
Reliable Support: Extend the support and get featured updates and security patches to build a secure community
Being a software development company, Big Rattle believes that it's our job to ensure that our clients get the best at all costs. From fulfilling system requirements to documenting the software development process, we tackle every task according to the client specifications precisely.
Big Rattle is at the top because we enable organizations to adapt seamlessly to social integration and networking, helping them to go through the sustainable and transformative changes that will bring their mission to success.